I know this post is over 2 months late, but better late than never.  I'm writing this up as I re-watch Castle season 2 on DVD, which is quite fitting by the way my Comic-Con week ended.
Comic-Con always sounded like a great time when I heard about it on various TV podcasts, blogs and tweets, and I had really wanted to go for a while. However, the tickets to SDCC always seemed to be sold out. So when they announced a month before this year's event that they would have some membership hotel packages available, I jumped at the chance.
My primary interest was all of the TV panels, and to a far lesser degree all of the comic-book, movie and video game fare. It was an exhausting 5 days, but it was a lot of fun and can't wait until next year! Below is a day-by-day recap of what I did and saw:
All of my panel photos can be found here.   I apologize for the quality of the photos–while my view most days was quite nice, the zoom on the iPhone 4 does not do it justice. However, the two videos I recorded using the iPhone do look great in 720p!  For all panels I have tried to hyperlink the title to YouTube videos with full panel coverage.
[Wednesday|Thursday|Friday|Saturday|Sunday|Final Thoughts]
Wednesday July 21, 2010 – The Arrival and Preview Night
I got to Logan airport early, but my Jet Blue flight didn't leave until  9:25 am.  While waiting, I played the "guess who's headed for Comic-Con" game–purely based on people's appearance.
Despite the TVs in the seats, I spent the entire flight reading "FEED", which I had just received as a prize from a contest on With A Good Book. Nothing passes the time like reading about a Zombie Apocalypse.
When the flight arrived in San Diego at 12:30, I took a Super Shuttle to my hotel in Mission Valley, where I hung out in the lobby until they let me check in around 3pm.  I dropped my luggage in my room and immediately headed outside to wait for the shuttle to registration.  The line for registration was huge, starting outside, wrapping around the perimeter of a hotel ballroom, back outside and back into the hotel's main lobby.  It took an hour to get through the line, receieving my badge, a Loony Toons swag bag and 2 Comic-Con guide books.
Checked in, I jumped on the next shuttle headed for preview night at the convention center.  Walking from the shuttle drop-off to the convention center, I crossed over the trolly stop, where all of the signs were in Klingon, and found the end of the line.  This would prove to be the theme of the weekend–lots and lots of waiting in lines!  The wait to get into preview night was made worse due to the extremely warm corridors the line was wound through.
Once we were finally let into the convention floor, it was complete chaos.   Rows upon rows of exhibitors.  After two hours wandering through the floor, I had already had enough.  I only read one comic book (Futurama) so most of the vendors were of little interest to me.  However, at the Fox booth they were giving out free copies of "Delivery Boy Man The Comic", which was perfect!  I also managed to get a few free t-shirts for various films and a video game as well as some other random lanyards and pens.  Everyone seemed to have a lanyard to give out–but since the free Comic-Con lanyard was for Dexter, I really didn't want anything else.  Tired of the floor, I headed upstairs for my first scheduled event of the weekend:
6:00-9:00 Special Sneak Peek Pilot Screenings Ballroom 20
The CW was airing the Nikita pilot 3 times that night on the big screens in Ballroom 20, so I caught the final showing, which I enjoyed.  I don't need to go into the show here as it has already started airing at the time of this post.
After the screening, I headed to the roof bar of the Hard Rock Cafe to meet up with some Twitter/blogging folks.  Everyone was referring to each other by their Twitter handles as that's how we know each other!  It was great to finally meet the TV Times Three gang of Jason, Rae and Amrie, as well as Daemon's TV's Sandie and Eric and Show Patrol's Curt as well as some other TV bloggers.
When I was originally dropped off in the morning, the shuttle driver had said the last shuttle back to the Mission Valley hotels was at 11pm, so I left at 10:45 to make sure I'd get there in time–but turned out the last shuttle was at 10pm. The trolly was supposed to have extended hours that night, so I headed to the trolly stop.  At 11pm, the trolly parked itself off the track with Out of Service, which made everyone at the platform nervous. I decided to wait it out, however, since all of the signs were in Klingon, I had no idea which line I was supposed to take.   I called my hotel and they told me what to do.  The train finally moved at 11:45, but in my joy to see the trolly, I just jumped on and after a few stops I realized I was on the wrong line.  There was no way I was going to loop before the trains stopped at midnight.  Seeing homeless people on the streets at the darkened stops didn't reassure me as to when I should get off, so I decided to hop off where it met the blue line and hope for a taxi–fortunately there were two cabs hanging around close to that platform. So a $4 trolly and $20 taxi ride later I finally got back to my hotel some time after 12:30 and went right to bed.
I found out afterwards that Aaron Douglas of BSG made an appearance at the tweet-up just after I left–I should have just stayed there and planned for a taxi from the beginning!
Thursday July 22, 2010 – Day 1
Thursday was my first day of panels, and most of the TV-related panels I was interested in for the day were in Ballroom 20.  I had been planning on trying to catch some other panels in the morning and then head over to Ballroom 20 since the panels in that room didn't start until 1pm.  However, I got really nervous when I saw the line for Ballroom 20 already forming around 9am and abandoned my plans and got in line right away.  It turns out that I had nothing to worry about as I was able to get a seat in the 5th row once we were finally let in the room.  During the course of the day in Ballroom 20, I slowly inched my way up and towards the center as panels finished and people left the room–finally ending up in the second row for the final panel of the day.
Below are the panels I attended on Thursday, along with their official synopsis and a few comments by me.  I will not be giving detailed recaps of each one:
This was a very entertaining panel moderated by guest star Chris Vance.  They started off with an exclusive video narrated in Michael Westen-style on how to survive Comic-Con.  Bruce Campbell was hilarious throughout the event–handing out "thank you" money to anyone who said good things about him during the Q&A.  They gave out swag tickets for a t-shirt (only had XL when I went to redeem).
Willie Garson was a great moderator for this panel–he kept things lively and fun, often referring to "Tiffany Amber Garson". The exclusive video was a also quite entertaining.  They gave out swag tickets for a t-shirt (only had XL when I went to redeem).
This panel was wonderful and one of the highlights of the day.  It started off with Curt Smith coming on stage singing "Shout" with James and Dulé, and ended with Dulé tap dancing.  There were some great audience questions, especially one to Tim and Maggie asking them about some really bad role choices they had made in the past. They gave out swag tickets for a foam pineapple finger and a t-shirt (only had XL when I went to redeem).
This panel was really bad, partially due to the moderator.  Most of the questions people asked were really stupid or repeats of other questions.  For example, one person asked David Duchovny and Michael C. Hall, "What is it like going from Movies to TV?" and a lot of the discussion was about the actors' prior roles and not the Showtime shows.  It's sad when the best question was to Mary Louise Parker, "You've don't a lot of nude scenes in the past, which is your favorite?" followed by audience member yelling "Whip 'em out" as well as Jenji Kohan also motioning that she do so.
This was much better than the Showtime panel.  Great to see so much of the main cast on stage.
I got into this one a little late due to the massive distance between the hotels.  However, it was quite interesting to see the history of Penn & Teller's partnership–and to hear Teller actually speak!  Who knew he was a Latin teacher and spoke very eloquently?!
Friday was another full day of panels.  I found that most of the panels I wanted to see were in Ballroom 20.  So once again I camped out in line early (pretty much the same exact spot as the prior day) and then improved my seat as the say went along.
Below are the panels I attended on Friday, along with their official synopsis and a few comments by me. I will not be giving detailed recaps of each one:
This would have been a lot better if Ming Na hadn't been completely out of it (or on something)–she was more concerned with her flip video (cradling it as her "precious") than paying attention to the questions being asked.  At least David Blue tried to reign her in by taking away her camera.  It would also have been great if they had brought more of the cast–there was plenty of room on stage.
The moderator for this panel was terrible–James Marsters was on the panel and the moderator asked him about an upcoming guest appearance on Smallville, which then led to a lot of audience questions about Spike on Buffy.  You could see the producers of Caprica were visibly upset that the conversation wasn't even about their show.  It didn't help that most of the audience did not seem at all interested in Caprica and were just there early to get a good seat for the other panels.  In fact the four guys in front of me were watching The Big Bang Theory on DVD during the panel, laughing out loud.
We knew we were in for a treat when they handed out theme song lyrics before the panel started.  Sure enough, the moderator Wil Wheaton came out and introduced The Barenaked Ladies who did a sing along with the audience.  The panel itself was great–the full cast was there, and Wil Wheaton was a great moderator.  This was one of the highlights of the day.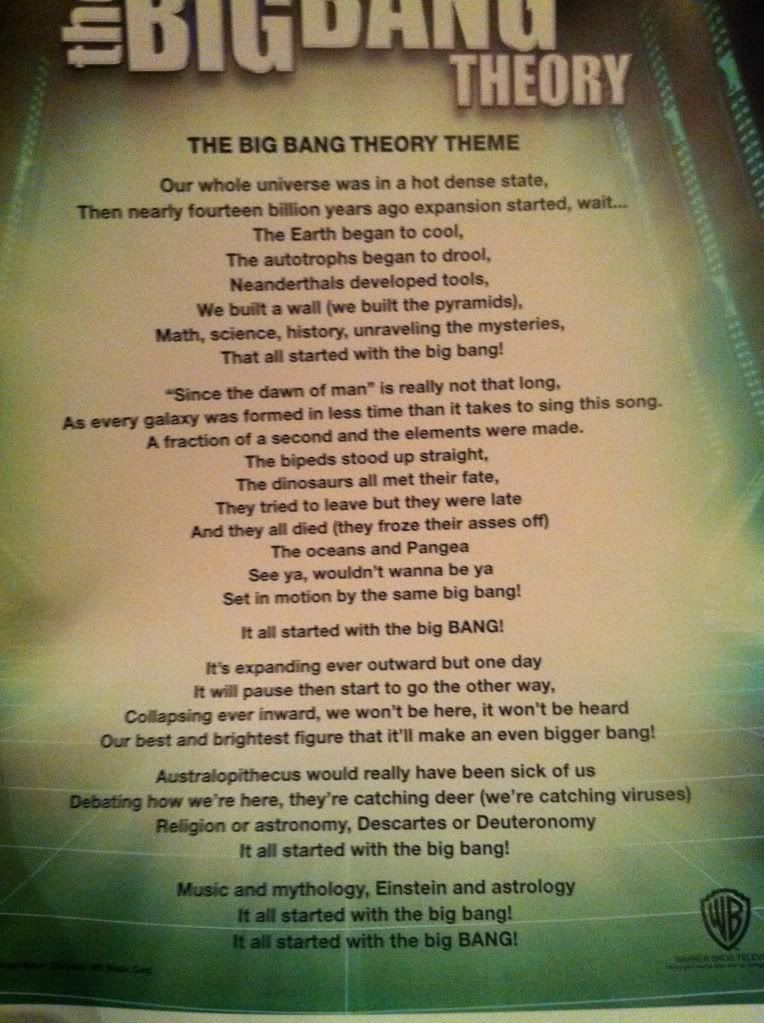 It was great surprise to see BOTH Booth and Bones there on stage together.  The panel was good, but there was nothing that memorable about it.  They gave out swag tickets for a "200 Bones" paperback.
Joss gave a great talk and Q&A session.
This was the surprising highlight of all of the panels I attended–all of these women were very interesting and amazing.  Jena Malone kept telling these amazing stories (about her stunt work and her inspirations), and each time Elizabeth Mitchell was asked for her response immediately afterwards.  Finally, she just said "Why do I always have to go after her?"
Could they fit more people on the stage?!  Pretty much every actor you could think of was there on the stage–they even brought a cardboard cutout of the one actor who couldn't make it!  There were some pretty obsessed people in the audience–including one woman who was giving the stare of death to people who wouldn't let her move up closer to the front (it didn't help that she was wearing a bloody Merlotte's T-Shirt).  It was an entertaining hour, and great to see so much of the show represented.  They gave out swag tickets for a True Blood gift bag filled with a large t-shirt, paperback of the 3rd book and some other goodies.
What an amazing gathering of actors!  However, too much time was spent on trailers and video clips that no time was left for Q&A.  While watching V this past season, I didn't think it was possible for them to make Morena Baccarin look worse than that terrible hair, but I was proven wrong when she walked out on stage with the same hair, only blonde.  I wish they would go back to her Firefly look.
The producers and some of the actors, including Wil Wheateon and Eric Balfour, introduced the Eureka and Haven episodes that were airing that night on SyFy.  I only stayed to watch the Eureka episode.
Saturday July 24, 2010 – Day 3

Saturday was a tough choice–there were two competing lineups–a full schedule in both Ballroom 20 and in the Indigo Ballroom.  I chose once again to stay with Ballroom 20 and work my way to a better seat throughout the day.  Saturday was a much busier day and I was slightly further back than previous days, but not for too long.
Below are the panels I attended on Saturday, along with their official synopsis and a few comments by me. I will not be giving detailed recaps of each one:
People were lined up early for this one.  The panel was fun, but short on substance–they started with an amusing Jeffster video, and then the cast came out and threw t-shirts into the audience.  I had my hands on one of the shirts when the father next to me bent back my hand to get it–nice role model for his daughter!  By the time they actually got to the panel and Q&A, there wasn't much time left.  It was nice to see the entire cast there.
The clips from the upcoming Star Wars episode were great.  The panel and Q&A was entertaining and Seth MacFarlane did an impressive live voice-over of the "Down Syndrome Girl" song.  They gave out swag tickets for a button.
Not a whole lot different than the previous panel, but also fun.  Always interesting to see the actors when hearing the cartoon voices, and nice to see a Comic-Con themes episode clip at the event.    They gave out swag tickets for a button.
Being one of my favorite shows, I really enjoyed this panel and it was great to see the voice actors.  They showed the first half of the now aired Comic-Con themed episode, which was wonderful being in that environment seeing the episode.  They had a lot of the voice actors for the show present and did a table read.  They gave out swag tickets for a comic book (yes the same one I picked up on Thursday).
More of the same except I wish they had had some of the voice actors there.  Matt Groening gave out signed Simpsons merchandise to people asking questions.  Best question was a little kid asking about a Simpsons/Family Guy cross-over (which they certainly would have answered in a different way if an adult had asked).  They gave out swag tickets for a button.
Another panel with Morena Baccarin's aforementioned terrible hairdo.  Was almost nice to see the entire cast on stage though.  There was an accidental slip-up about an upcoming character that even the cast didn't know about yet!
The entire cast on stage–great to hear about the new season and how they refer to the other Olivia as "Bolivia".  They gave out swag tickets for a popsicle stick fan (what junk!).
I only stayed for the first few minutes to see if there was a swag ticket being handed out.  Then I ran to get in line for Mythbusters.  The audience was filled with fangirls.
The main cast were all there–Chi did some amusing celebrity impressions.  This panel made me really excited for the new season.  They gave out swag tickets here, but when I went to redeem it they were all out so I don't know what they were giving out.
All 5 cast members were there, along with Grant's robot from Craig Ferguson.  It was a very interesting and fun Q&A and they showed some clips from the new season.
As I was getting tired, I only stayed for an hour or so.  Some of the costumes were well-done, others were embarrassingly bad.
Sunday July 25, 2010 – Day 4

The final day!  I had to check out of my hotel and bag check my luggage at the convention center.  So due to the delay I was a little late getting in line.  I decided to stray from my usual plan of sticking with one room all day–I was going to skip the Smallville and Supernatural panels in Ballroom 20 for the Castle panel in another room, and then try to get back into Ballroom 20 later in the day.
Below are the panels I attended on Sunday, along with their official synopsis and a few comments by me. I will not be giving detailed recaps of each one:
This panel was great–most of the main cast was there.  Molly Quinn was dressed in a red Star Trek original series uniform (she had been enjoying the convention on her own with her parents).  Nathan Fillion was mentioning Double Rainbows a bit too much, but did a great reading from "Naked Heat" to Stana Katic (who couldn't keep a straight face).  He was also signing random junk from his bag (candy bars, his party wrist bands from the prior night, etc.) and giving these as prizes to people asking questions.
When we first entered the room, they handed us a metal Castle waterbottle.  Inside a random 200 of these was a green ticket to a special autograph signing session–I was lucky to find one of these in mine.  The desperate housewives around me were all trying to bribe me for my ticket.
 Going to this would mean that I would miss the American Dad and Glee panels, but I didn't want to give up the opportunity.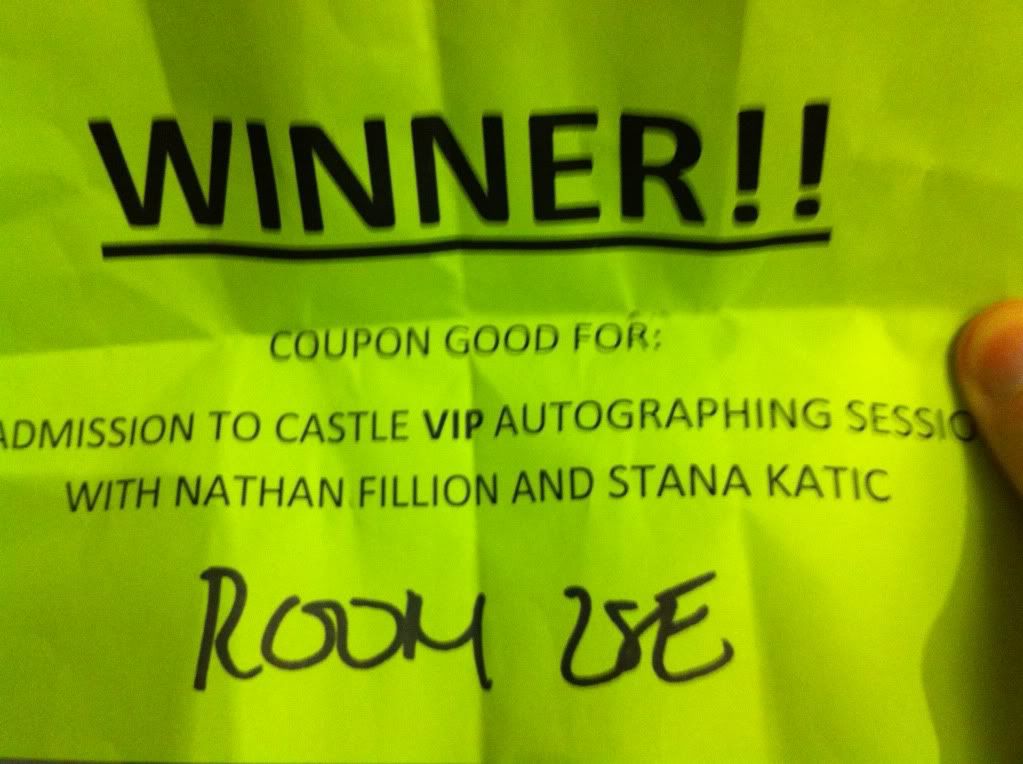 Once the panel ended, I immediately headed for the autograph session room. It didn't start for an hour, but I didn't see how they were going to get through 200 people in an hour so I wanted to be first in line. The guard thought I was nuts for wanting to start a line an hour early, but the hallway quickly filled up. They didn't allow any photographs or requests for personalization in the autograph room–just your choice of a cast photo or poster to get signed. We were quickly moved though the line from actor to actor–only Stana was asking people for their names to personalize her signature. It was great to have this (albeit brief) brush with the actors.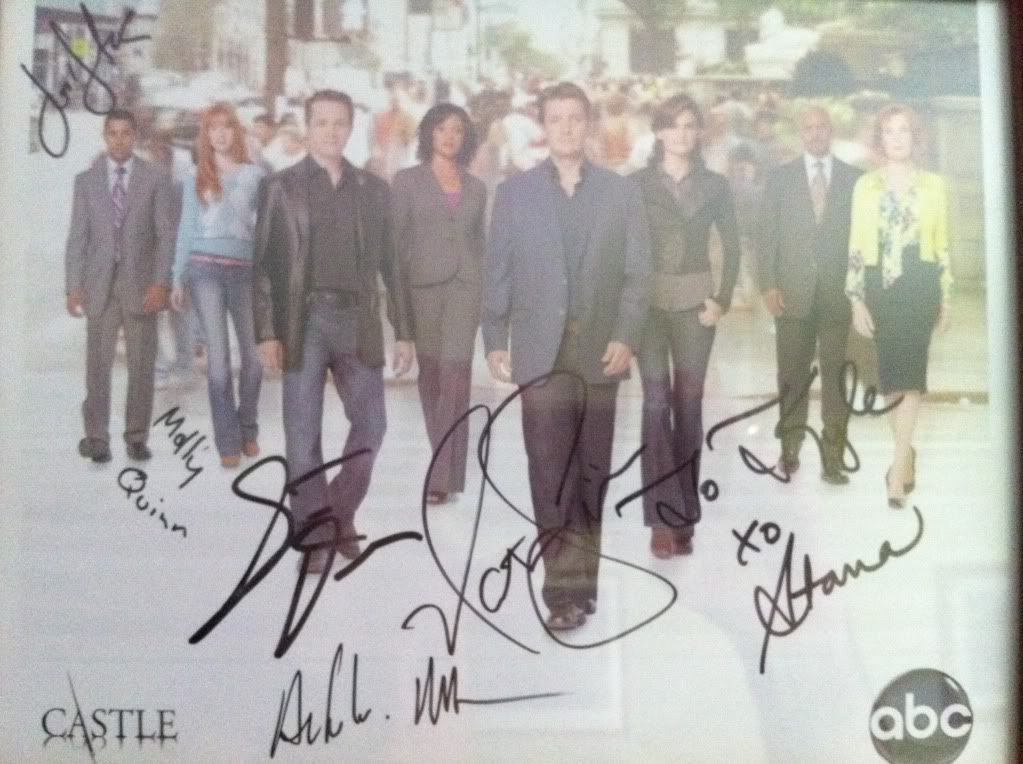 These panels were given less time than the others. The Sons of Anarchy had some good discussion and Q&A.  For Sunny, they aired an entire episode, which left barely any time left for Q&A.  This was my first time watching the show and I was very disappointed.  I didn't find it funny at all and the acting was poor at best.
I only stayed for the opening number–just wanted to see what this was all about.  They just showed the episode on the screens in the ballroom with the DVD subtitles enabled.  People had some sort of finger puppets but I'm not sure what they were used for as I had to leave to get my luggage out of bag check, hit the swag redemption room one last time and meet my shuttle to the airport.  I also made sure I registered for next year's event (with preview night).
The swag redemption room was way too far away, buried deep in an adjacent hotel.  It took a long time to get to, and often there were long lines.
Overall, it was a very exhausting weekend, but for the most part the panels were interesting and fun.  It was great to be so close to all of these actors you watch on TV all the time.  It was also great to meet up with some of the TV bloggers and podcasters I have only communicated with online.  As for the convention floor itself, the time I spent there on preview night was more than enough for me to see what I wanted to see.  In the future I will need to be sure to get preview night just for that dedicated time to view the floor as all other time is back to back panels.